RAPPO, as a peripheral brand, has been loved by the majority of users for twelve years with its perfect product line, excellent products and affordable prices. In the consumer market is increasingly segmented, RAPPO also for the new era of female users to bring more suitable peripheral products, the new female brand Ralemo is launched in this context.
Recently, Ralemo brand of another heavyweight new product: ralemo Pre 5 wireless mechanical keyboard officially launched. This one cool gifts 2020 can be too suitable to give to your girlfriend, both good-looking and personalized.
What are the differences between this personalized mechanical keyboard and the traditional mechanical keyboard on the market? And what special experience it can bring to female users? Here is a detailed breakdown for you.
Cool Gifts 2020 - Wireless Mechanical Keyboard Ralemo Pre 5 Fashionable color scheme
The common appearance of mechanical keyboards on the market are mostly black and white, ralemo Pre 5 mechanical keyboard provides four fashionable colors such as sensible blue, slightly drunken purple, delicate pink, ice and snow white, making this keyboard in the dull peripheral market light up a new wind.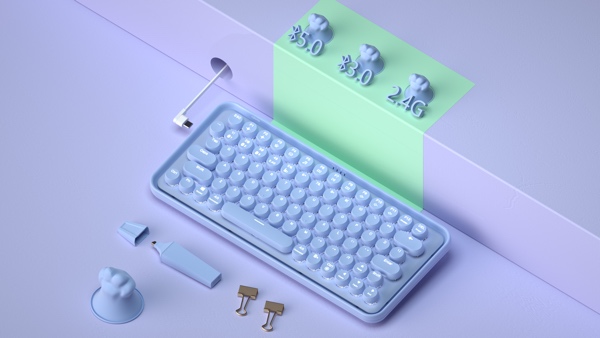 The color is the most intuitive impression of the keyboard to the user, ralemo Pre 5 mechanical keyboard of several colorways after repeated proofing, and finally presented a fresh but not greasy, beautiful but not lose the sense of elegance.
Take intellectual blue for example, the overall tone is extremely advanced and looks full of wisdom. When your fingertips fall on the keys, it is as if you have a whole ocean of knowledge.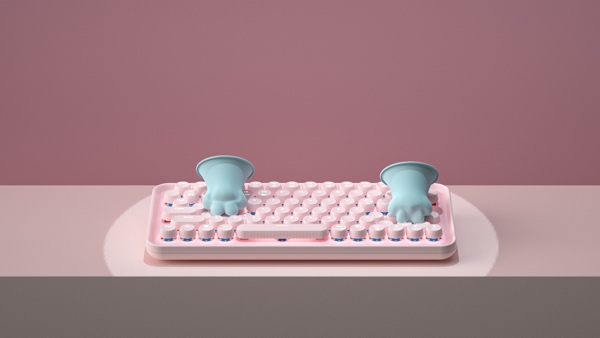 The round keycaps are uniquely shaped and full of energy, just like the desserts in the cake store, so people can't help but want to "taste".
The lively and lovely micro-brewed purple has a hint of jumpiness and is more suitable for the ghostly elves and cute and adorable girls.
And the more pink delicate pink, so you instantly become the focus of the crowd, warm and spirited, like a blooming flower, I believe that the confident and generous, full of charm you do not want to miss.
The last is the warm and versatile, light and elegant ice and snow white color scheme. Calm in the user to bring more touching, in the calm in the wisdom of life.
I believe there is always one of these four colors that will touch your girlfriend's heart and hit the soft heart, the best choice for cool gifts 2020.
Cool Gifts 2020 - Wireless Mechanical Keyboard Ralemo Pre 5 Office Professional
ralemo Pre 5 mechanical keyboard with 87 keys layout, compact layout, will not take up too much space on the desktop, but also to protect the commonly used keys, in the design and function of a balance.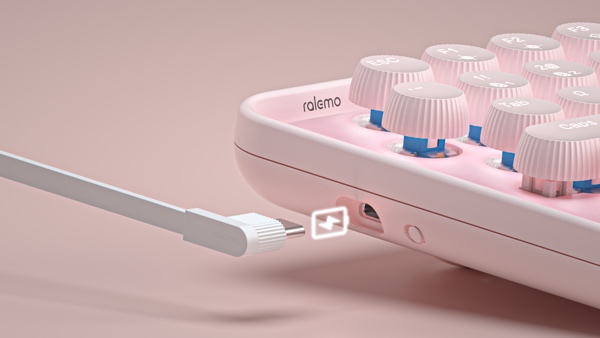 In terms of functionality, ralemo Pre 5 mechanical keyboard absorbed RAPPO more than a decade of professional peripheral technology, the strength of the same should not be underestimated.
Equipped with its own office mechanical axis, providing black, green, tea, red 4 axis body, single axis life up to 60 million times, coupled with 1.2mm stroke, to bring a crisp knocking feedback.
In addition, ralemo Pre 5 mechanical keyboard uses a white backlighting system, the keyboard supports 6 backlighting modes, 4 levels of brightness adjustment, key caps flow in the light, not only brings a better visual, in the dark environment is also more use, can be said to be a balance of design and function.
Cool Gifts 2020 - Wireless Mechanical Keyboard Ralemo Pre 5 Wireless convenience
Wireless is the brand genes of RAPPO, ralemo Pre 5 mechanical keyboard in the function of the continuation of the usual convenient wireless connection, support for Bluetooth 5.0, Bluetooth 3.0, wireless 2.4G, etc., while retaining the wired connection mode, a total of four types of connection, convenient for users to choose freely.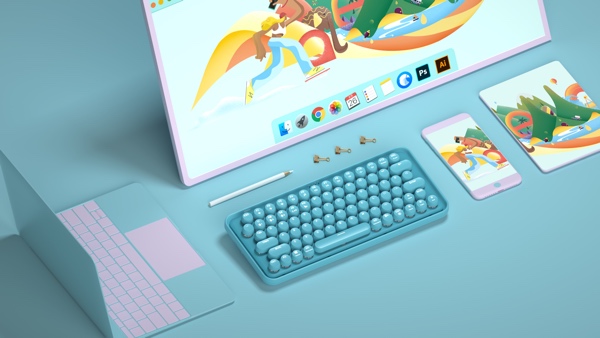 ralemo Pre 5 mechanical keyboard and ralemo Air 1 wireless mouse together to form the best partner, can easily connect notebooks, computers, cell phones, tablets and other devices, up to 5 devices and can be quickly switched between the devices, simplify the workload, bring efficiency gains.
It is worth mentioning that ralemo Pre 5 mechanical keyboard also for the commonly used Windows and Mac OS operating system, the key layout match, so that the operation interaction is more convenient.
The keyboard is configured with multimedia shortcut keys, which support quick call for playing music, adjusting volume, sending emails and other operations, further enhancing efficiency.
Endurance, ralemo Pre 5 mechanical keyboard built-in 4000mAh lithium battery, USB-C interface, support for fast charging, 4 hours to full, general working conditions up to 13 days of endurance.
Cool Gifts 2020 - Wireless Mechanical Keyboard Ralemo Pre 5
As a brand dedicated to female users, RAPPO new female series ralemo has been studying the needs of female users in depth, looking for the best balance between design and function, so that peripheral products for female users are no longer limited to the conventional, and professional peripheral technology is integrated into the unique design.
ralemo Pre 5 mechanical keyboard is a mechanical keyboard for female users to create a personal style and functional experience at the same time, will become another trend-setting work in the peripheral market, is the best choice for cool gifts 2020.